We like to remind you of this mantra as often as possible because it's important.
Sparkling lights and decorations once again adorn our cities and shops, signaling to us all that the end-of-the-year "season" has begun.
And how are things going for you? At our houses, the kids are already building their Christmas wish lists and looking forward to opening their advent calendars. The number of year-end gatherings to organize or participate in is already overwhelming. We oscillate between the deep pleasure of spending time with loved ones, sharing and feeling happy together, and at the same time, we feel the weight of this season's expectations and traditions. Either way, whether we love it or hate it or both, these end-of-year celebrations are essential rituals.
This is the moment then when our mantra "Self-love, Take care of yourself" matters most. Don't wait to to put these words into practice to help deal with it all. Because, in addition to the holidays, we are headed for cold, winter weather combined with a strange, "almost post-covid" vibe, further stirring up all kinds of emotions.
So remember, generosity begins with oneself. Here is something to take care of yourself (and others too :-)… and a reason to gather together (in person!) as we mark the debut of this special time of year.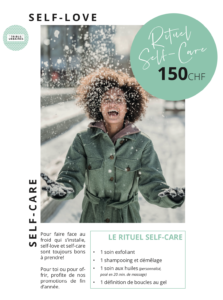 "Self-care" ritual
Exfoliating treatment,
Shampooing and detangling,
Personalized oil treatment applied in a 10-minutes massage,
Curls definition with gel.
You can select this treatment package when you make your appointment.
Choice of Gift boxes
Shampoo of your choice,
Conditioner of your choice,
Moisturizer of your choice,
Micr0fiber towel,
CHF 15 voucher to be used on the service of your choice before February 28, 2022.
The price of the box depends on the price of the three chosen products combined. You can find them at the salons or on our online shop.
 "Swiss made"  body care Gift Box
Gaïdness lip balm,
Kam'nature shea butter,
Sheanaynay sopa,
Microfiber towel.
You can also find them at the salons or on our online shop.
And our gift vouchers
Available at the salons or online
And the 2022 Hair Workshop…
Join us on Sunday, November 28 at 4:30 p.m., at our Lausanne salon, for an afternoon with our three artist ambassadors: KT Gorique, Yilian Canizares and Mamu Tschi, who will discuss their respective careers, their sources of inspiration, their challenges and successes, and how they embrace and showcase their cultural heritage in their lives as artists and women. The discussion will be followed by an exchange with the audience and a musical surprise. The event will take place from 4.30 p.m. to 6 p.m. and will conclude with a DJ set, from 6 p.m. to 8 p.m.
Here's the link to "buy" a free ticket and confirm your participation.
Ces articles pourraient aussi vous intéresser