End the year on a high note!
Each December, we remember and celebrate the road we have traveled. This year our celebratory program includes: holiday party hairstyles at festive prices, exclusive gifts for others and yourself, extended opening hours… and the arrival of a new flagship product, Niir, our favorite styling cream.
This tradition is important to us because it coincides with Tribus Urbaine's birthday! We opened our first salon in December 2017. Since then, when the city is lit up for the holidays, tinged with green, red and glitter, we celebrate too, along with you, all month long! In this spirit, we will stay open, regular hours, on both December 24th and 31st. In addition, on December 18 and 20, we'll be open late, until 8:30 p.m. And to celebrate our 2nd birthday, we have set up a concept store in the Lausanne salon that we know you will L-O-V-E!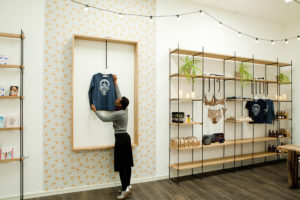 Gifts for others or for yourself
Sensitive, sensible, exclusive, the products for sale in the Tribus Urbaines concept store are made to help take care of both minds and bodies. There are books, fashion accessories, cosmetics and edible gourmet treats to discover.

Holiday Party hairstyles at festive prices
In december 2019, any hairstyles shown for 75.-
With a shampooing, the price goes up to 95.-

Niir: the star of styling creams
Natural, raw, vegan formula with no harmful ingredients, Niir cream moisturizes, nourishes and defines curls. Specially adapted for frizzy, curly and afro hair, it is made of vegetable oils (kukui, sapote, broccoli, sweet almond and argan) and butters (coconut, shea and cupuaçu) as well as marshmallow. In addition, Niir was created in Switzerland, on the shores of Lake Geneva. We loved meeting Anna, the creator of this great product that has become a real favorite of ours. Thanks to her teams' know-how she has created a "made in Switzerland" product of the highest Swiss quality. For the moment, Niir is for sale exclusively at Tribus Urbaines in limited quantities.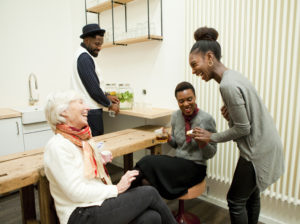 Upcoming events
December 18 and 20
On December 18 and 20, don't forget to come knocking on the door at Tribus Urbaines. We will stay open in Lausanne until 8:30 p.m. Champagne, sweets and all our gift ideas will be available to accompany the lights, champagne, and the smell of burning firewood in Lausanne's downtown Christmas market. Come enjoy this special time of year with us!
December 21
On December 21, we will inaugurate our concept store and the reception area will stay open until 8:30 p.m. This is your unique opportunity to meet the creators/initiators of the special products we will have for sale in this new space.
Ces articles pourraient aussi vous intéresser