Curl up the year with flair! Celebrate your accomplishments with dignity. Take care of yourself and  others.
Don't forget. In December 2017, we set up shop as our new address : rue de la Madeleine 10. Thank you for your help in realizing our dream!
New Year celebrations abound in lights, red and green colours, the acts of giving and receiving. The anticipation of the New Year galvanises us. We "curl up" our first year at our new salon at rue de la Madeleine with sparkling eyes and joyful hearts, cultivating traditions.
A flash sale on 23 November for 69 haircut, hair care and curl definition appointments at extremely low prices.
BLACK FRIDAY 2018 falls on 23 November. This number inspires us. We're offering the following appointments for 23 hours (from 23 November at 10h00 to 24 November at 9h00):
23 appointments for 3 haircuts for CHF 185 (all haircuts, hair lengths and hair textures); y save up to CHF 235,
23 appointments for 3 care treatments for CHF 135 (mixed treatments); save up to CHF 145,
23 appointments for curl shaping services for CHF 125 (all hair textures and lengths); save up to CHF 85.
You have just 23 hours to purchase one of the 69 (3 x 23) appointments. 3, 2, 1…Go!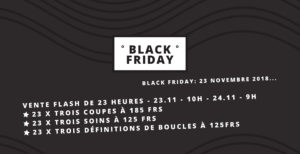 Tribus Urbaines has its own Wonder Woman named Merveille, who cuts like a pro with a creative twist and does wonders with her fairy-like fingers and a golden hairstyle. Take this opportunity and come see us in Lausanne. And for those who wish to offer a bit of wonder to themselves or to others, discover our wonderful gifts to "curl up" the year with flairl
We've prolonged our opening hours until 21h00 on 14, 19 and 21 December.
On the above dates, our doors will stay open until 21h00.
A glass of champagne, tasty treats and inspiring gift ideas will be at your fingertips to help you enjoy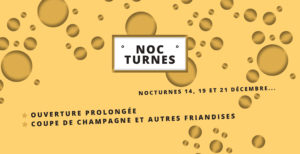 Ces articles pourraient aussi vous intéresser