Aminita, hairdresser and locktician, Lausanne salon
Passionate about hairdressing for as long as she can remember, Aminita has always done hair. Even as a child, her favorite game was braiding her dolls' hair.
Growing up, she learned braiding and all kinds of Afro hairstyles from her mother. She then decided to attend hairdressing school to deepen her knowledge and professionalize her practice.
Aminita loves braiding, it's part of her culture. She also loves taking care of natural hair and sharing her cultural knowledge and skills with the rest of the world.
Her brothers and her mother have been wearing locks for many years. To accompany them on their hair journey, she is learning how to tighten locks.
The icing on the cake: Aminita speaks both English and French (perfectly bilingual).
Aminita's strengths :
Starting and tightening locks
Twist
Braids
Personalized Afro hair treatment
Afro hair styling
English and French-speaking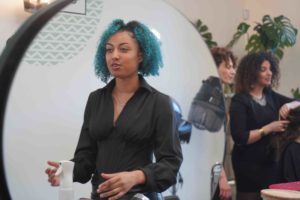 Ces articles pourraient aussi vous intéresser