Our Geneva salon celebrates its first birthday this month.
Thank you for your loyalty and trust during our first year in Geneva at rue École-de-Médecine 14.
The year has gone by so quickly!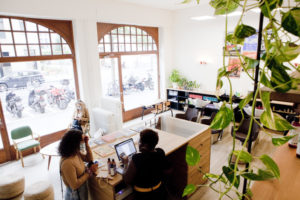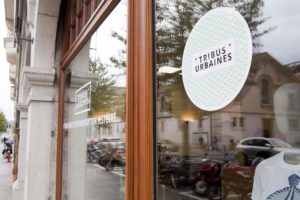 The cycle of the seasons provides a rhythm to our existence and a reminder that from year to year, we can count on some things being similar. At the same time, each year is fundamentally different from the next isn't it?!
Indeed, October in Switzerland is a very beautiful time. Mother Nature offers us warm light, rain, chestnuts, and the changing color of the leaves, shining in the dwindling sunlight in their infinite shades of yellows and reds – falling, twirling softly to the ground.
This perpetual restart invites us to reflect on our life and to notice how we react and adapt to its patterns and its changes. We watch our children grow up, our hair grow longer (yes, yes! ☺), our professional and personal projects develop, and our relationships grow stronger or wither away.
Tribus Urbaines is following suit. Many things remain solidly the same, while others are in a process of profound transformation. The Lausanne team is renewing itself: some of the hair stylists are leaving  to follow other personal of family projects.
We are recruiting a new team that will begin between the end of the year and early 2022. The opportunity to meet beautiful people and support the mission of Tribus Urbaine resonates in the hearts and minds of these talented hairdressers.
On the Geneva side, no big transformations, but one new announcement. Starting November 1st, the Geneva salon will be open Monday through Saturday. Sabrina, our trainer, will be in residence so don't miss the opportunity to make an appointment!
How is your fall shaping up? Is it a time of deep transformation or simply a peaceful, pre-winter warmup? Either way, self-love coupled with self-care should always be part of the plan.
To encourage you in this direction, we're offering the following 3 specials:
* A "self-care" ritual including: an exfoliating treatment, shampooing and detangling, a personalized oil treatment applied in a 20-minute massage, as well as a definition of curls with gel. All for 150 CHF. You can select this treatment package when you make your appointment.
* End-of-year party boxes in two versions:
(1) Swiss made
"Swiss made" body care products from our concept store (Gaïdness lip balm, Kam'nature shea butter, Shynaynay soap) with a Tribus Urbaines microfiber towel – CHF 45.
(2) Nancy Falaise or Innersense
Shampoo, conditioner and moisturizer of your choice, with a microfiber towel and a CHF 15 voucher to be used on the service of your choice before February 28, 2022. The price of the box depends on the price of the three chosen products combined.
May you be filled with warm light, self-care and love in this beautiful season.
Happy fall!
PS : we have been approached by several associations that request our support in one way or another. Also if the association convinces us and shares the values of Urban Tribes, we give it a platform in our Newsletter.
Here is Alter Africa: support evening on Saturday November 6th in Biel
We will be there and hope to meet some of our future clients from Biel.
Alter Africa is a Swiss non-profit association that promotes the role of African traditional medicine in the public health landscape. More precisely, it wants to contribute to the development of a validated and controlled use of local herbal remedies in peri-urban and rural areas of African countries.
The ultimate goal is that the use of so-called traditional medicine can be considered as a reliable, inexpensive, effective and accessible option when it has been scientifically validated.
The association is part of the WHO strategy for traditional medicine (2014-2023). Alter Africa is led by a multidisciplinary scientific team specialized in ethnopharmacology, ethnobotany, phytotherapy and public health. Its steering committee is supported by an advisory board composed of a group of experts.
Ces articles pourraient aussi vous intéresser