Only candle on the birthday cake. One year since you put your trust in Tribus Urbaines to take care of your hair and style your curls. One year of proof that Tribus Urbraines matters. One year of working hard to make our dream a reality, thanks to you.
In January, Tribus Urbaines will celebrate its first anniversary, as usual, in style.
Nancy in town from 6 to 14 January
Nancy Falaise, our trainer from Montreal with over 20 years of experience in taking care of curly, frizzy, kinky and Afro-textured hair is visiting our salon. Inside her luggage she has brought new hair accessories and other surprises for you to discover. The talented Nancy will also assist you with hairstyling services. So schedule an appointment, quicky! Space is limited.
Workshop for parents and children on 7 January
On 7 January at 9h30 and 14h30 respectively, Nancy hosts advanced and getting-started workshops for parents and children. According to the agenda, your little "curlies" will have access to a mini playground to check out different haircutting techniques on dolls with curly and kinky hair while their parents will refine their own skills. Practical tasks, accessories and snacks are included in the price.
Workshops for adults on 14 January
Adults can also benefit from taking a practical course with Nancy. Simply show up for a workshop for beginners on 14 January at 9h30 or an advanced workshop held on the same date at 14h30. Practice, accessories and a snack are included in the price.
Register now!
Monday 8 January: a 30% discount on all services!
We are normally closed on Mondays, but this, Monday 8 January, Nancy will be with us so we'll be open! It is a perfect opportunity to learn Nancy's secret hairstyling techniques. On this special day, a particular emphasis will be placed on Silk press (brushing with flat irons) and Twist undo (twists formed into a bun). Kinky and Afro-haired ladies, hurry up!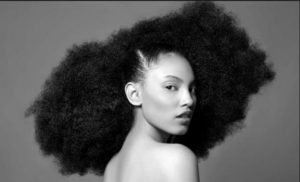 Kinky hair grows!
Join us for a roundtable discussion on Friday 12 January
Nancy Falaise and Alicia Azari, creator of the blog "La Vie en boucle", will debunk the myth that textured hair grows more slowly than straight hair. Come for the discussion and share your experience with other curly-haired women. We'll offer drinks and sweets. The event is free of charge but there are only 14 spots so register now!
Fireworks on 20 January. We celebrate the first anniversary!
Have fun, dance and laugh to mark this special occasion in our new location. We'll gather to say "thank you" and make a toast, glass in hand, to the future.
On this special day, we are hosting the exposition "Black Love" by artist Ashley Moponda. For planning reasons, register online ASAP to confirm your attendance.
Ces articles pourraient aussi vous intéresser