And at the same time, it's so great to be back to school!
On the one hand, we made the most of the situation and finally took full advantage of the beauty just outside our door. We visited many gorgeous nearby lakes and mountains. We hiked in the Grison and discovered the Bregalia Valley, the homeland and source of inspiration for the famous Swiss sculpter Alberto Giacometti. And we hiked the Dents du Midi in Valais and realized it was an allegory for the hard work we have done building Tribus Urbaines … start, find a rhythm, put one foot in front of the other, stay motived, keep climbing higher, revel in the solitude, give thanks for the privilege of the experience, feel alive, be proud, glance the summit, lose sight of it… and then finally, reach it.
At the same time, the Tribus Urbaines adventure continues, in the fast lane ! On October 1st we are moving to a much bigger space, 150 m2, on the ground floor of Boulevard Carl-Vogt 83 in Geneva, and we have hired six new hairdressers. Six! Hatice, Stelly, Doria, Sabrina, Barbara and Magda join the Tribe on September 14th, each of them more competent, creative and committed than the next. We will introduce them to you in future newsletters, on our website and on social media. But in the meantime, come and meet them at the Lausanne and Geneva salons! From September 14 to 30 , they will work in Lausanne (rue de la Madeleine 10) and then from October 1 to 10, they will work in Geneva, in the new premises, under the supervision of Nancy Falaise, herself. Yes, Nancy will be there! And like the new recruits, she will divide her time between Lausanne and Geneva.
Presently, the scheduling books for all our hairdressers (nine in total!), as well as Nancy's (yes, she will also do hair!) are open for appointments. Just call (021 311 33 31 / 079 738 05 75) or write us an email (contact@tribusurbaines.com) to book.
Nancy will only take styling appointments on the following dates: September 19 and 26, October 6, 7 and 10. And because she comes from so far away (Canada !) and we love her so much, her services cost an additional 10%. On the other hand, to encourage you to get acquainted with our new stylists, from September 14 to October 10, we are offering a 15% discount on all hair services with Hatice, Stelly, Doria, Sabrina, Barbara, or Magda.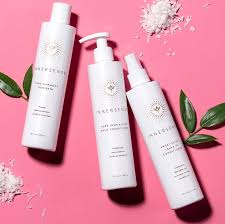 In other news, many of you have asked us to enlarge the variety and choice of products we use and sell in our salons and we have responded to your demands. Organic brands (like Innersense), shampoo bars and other happy surprises are waiting for you this fall. The new products will be arriving soon, from now through mid-October. And to make sure you love certain brands, we will be asking you to test them for us ! Continue to follow us to find out more.
And what about our traditional back-to-school makeover contest you say? Well, the health situation got in the way this year. But we hope to bring it back next fall or replace it with another event to celebrate this important moment in the year, full of new possibilities.
Warm wishes to you all and see you in the salon !
Ces articles pourraient aussi vous intéresser