Beautiful, healthy curls, cut and styled to make the most of your hair's natural texture. A look that is stylish, fun and simple, but not without flair! Tribus Urbaines will help you pursue whatever new year resolutions you made for your hair in 2020. Leave it to us. All you have to do is make an appointment! Easy-peasy. And yet still … every day, in the streets of Lausanne and Geneva, we come across women and men with frizzy, afro, and curly hair who still don't know about us. It's always the same scenario and it goes like this:
"You have great hair!"
"Thanks!"
"Who's your stylist"
"I do it myself because hairdressers don't know how to treat, cut or color my kind of hair well. And, it's also impossible to find good quality, natural products for my kind of hair. It's such a hassle!"
"….so you don't know about Tribus Urbaines?!"
This can't continue! This message is for all you curly headed women and men who still don't know where to go to be pampered and listened to!
This year, we're pulling out the heavy artillery in terms of communication: public displays in a global format. And that's just the beginning! If need be, we will decorate buses, trams, train stations and airports in Swiss cities around the country to get out our message that there IS a place, a paradise, for people like you, people like us!

But to create visuals for this communication "campaign", we need models. The photo shoot will take place on Tuesday, February 25, 2020 all day long. If you are available and want to participate, send us your photo by email (info@tribusurbaines.com) and tell us what you are ready to do with your hair (cut, color, etc.).
We'll choose five curly headed models from the responses received and offer them all our services. And that's the least of it!  (transportation to the salon and lunch are not included). The invitation is open to both men and women. At Tribus Urbaines, we are all inclusive! 
Photographer Sophie Brasey will immortalize this day with her images and Diane Zani de Blancarmina will help us with graphics. We are still looking for a makeup artist to work in exchange for benefits. If you know someone …
Niir one day Niir forever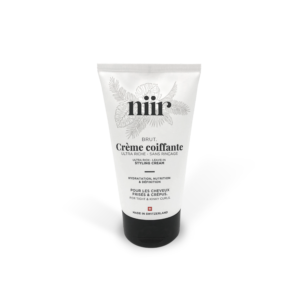 Clearly you like local, "made in Switzerland" products because we quickly sold out of all our Niir styling creams in December. So now we are offering new, similar, alternatives while we wait for our newly placed order of Niir creams to arrive. For the moment, this jewel of a product is still exclusively available only at Tribus Urbaines!
Reminder: Niir is made with a natural, raw, vegan formula with completely harmfree ingredients, Niir cream moisturizes, nourishes and defines curls. Specially adapted for frizzy, curly and afro hair, it is made of vegetable oils (kukui, sapote, broccoli, sweet almond and argan) and butters (coconut, shea and cupuaçu) as well as marshmallow. Niir was created in Switzerland, on the shores of Lake Geneva.
NEW CONCEPT STORE: BALMS TO LOVE YOURSELF
Tribus Urbaines is much more than a hair salon. It's a place, a way of being, a signature. From now on, we welcome the balms to love yourself from Marina K in our concept store at rue de la Madeleine 10 in Lausanne.
Just like us, Marina thinks that our greatest love story is the one we have with ourselves. She also wants women to remember and believe in their power. Her balm is therefore called Gainness (the contraction of "Gain", lione in Wolof and "Goddess"). The lip balm, natural, organic and "made in Switzerland" is used as a talisman to keep with you so that any time, with a simple, quick gesture, you can reconnect with feelings of power and love.
Wishing you a fabulous New Year, sweet and rich in every sense of the word!
See you soon!