Our wishes to you for a Happy New Year filled with happiness, health, love and prosperity!
We are convinced, 2019 will be a success! We've taken the plunge… quit our jobs to take care of our "baby" – Tribus Urbaines.
Let's be honest: all this is crazy! But you're with us – a database of 1700 potential clients,1200 subscribers to our Newsletter and 1400 Facebook and Instagram followers. We have more and more women comiing to our salon, spreading the word about our salon among friends and family, and saying nice things our work, which really makes us smile. It's avery encouraging!
All of that makes it feel more like leaping into the unknown with a parachute and a seatbelt rather than freefalling into a void.. With all of you by our side, we're surely going make it! .
Eh…Pas dans le vide! Dans le mouvement de libération des boucles. En marche, avec chacune d'entre vous à nos côtés.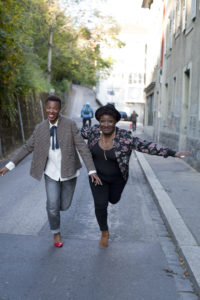 We begin another year full of energy and open arms, really to offer you a beautiful menu of services and products to cut, colour or shape your curls, and of course, to make them dance!
At Tribus Urbaines, we believe that with the right care + precision cutting and styling,- every woman's curly, frizzy, kinky and Afro-textured hair can be worn with beauty and panache!