For a fresh start, come see us at Tribus Urbaines!
After this amazing summer, returning to school and/or to work at break-neck speed can be a struggle, or, a pleasure!
For Tribus Urbaines, this is only our second Back-to-school season. So in the effort to establish a fun tradition, we have two special offers and a special event to offer you. We look forward to beautifying your hair with our care treatments, scissors and other relooking tools. And we're looking for one of  your little lovely faces to beTHE HIGH POINT of the season.
"Comeback" event for the curly-haired:

Participate in our contest! Describe you curls in the form of a text or a video and win a full relooking day with Tribus Urbaines, Globus and Mac Cosmetics.
"Comeback" special offer prices for curly-haired clients: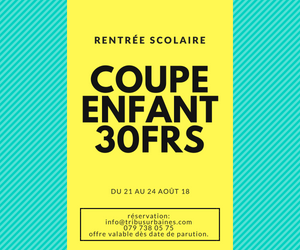 21 – 24 May: Children's haircut for CHF 30 instead of CHF 50. Schedule an appointment for your "little curly".
From 21 August to 1 September: MD Nature care treatments (Bio certified essential oil blends) for CHF 42 instead of CHF 52.
Ces articles pourraient aussi vous intéresser